On Sunday, 10th of May 2009, I had a dialogue session with Bangsarians. The meeting was organized by the Bangsar Baru Business Council, where its President, Mr. Ronnie Q moderated the event. More than 200 residents turned up for the event which was held at the Bangsar Sports Complex. Residents voiced their opinions on the troubles that they are facing to me and also took their time to hear me out on various issues and what I have done so far to help improve their standard of living.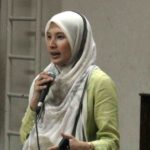 Among issues raised were:
The open space issue where currently a used-car-dealership now sits
The excessive crow population that is now starting to become a manace
DBKL troubles (lacking in speed, efficiency and transparency)
The need to bring back local council elections 
Alam Flora troubles (non-collection/slow collection of refuse)
Illegal jockeys at Jalan Telawi
Other issues
Some of the issues brought forth have been tackled by my office, I'll attach the links on the responses DBKL has given me soon.
Below are some pictures of the event:
Created with Admarket's flickrSLiDR.