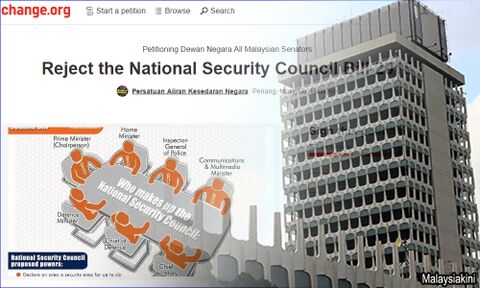 Salam Reformasi teman-teman semua:
Sempena kempen di Sungai Besar dan Kuala Kangsar di bulan Ramadhan yang mulia ini, saya memilih untuk menyatakan bantahan terhadap Rang Undang-Undang drakonian Majlis Keselamatan Negara yang digazet secara automatik beberapa hari lepas.
Kita tentunya mahukan kuasa Perdana Menteri dikawal selia dengan baik, bukan melangkaui peruntukan perlembagaan persekutuan serta struktur kenegaraan yang dipayungi Yang DiPertuan Agong.
Sekiranya RUU Majlis Keselamatan Negara yang mendapat teguran Majlis Raja-Raja jua tidak diendahkan, di manakah hendak kita labuhkan harapan kita supaya setiap rakyat dilindungi daripada salahguna kuasa undang-undang yang zalim?
Jemput membaca:
---
ON NSC BILL, BN DOING TO ROYALS WHAT IT ACCUSES HARAPAN WOULD DO
BN has done the very thing it often accuses Pakatan Harapan of what the latter would do to the royal institution, when it bulldozed the National Security Bill (NSC) into law without royal assent, says the opposition coalition.
"All this while, Umno/BN kept repeating claims that the opposition parties do not respect the institution of the Malay rulers and would threaten it if it governs the country.
"Today, it has become clear who is the one that does not respect the Conference of Rulers, when the Umno/BN administration trashed the criticism of the Conference of Rulers," said Harapan in a joint-statement today.
The statement was signed by PKR vice president Nurul Izzah Anwar, DAP publicity secretary Tony Pua and Amanah communications director Khalid Samad.
They were referring to the government's move to gazette the NSC Bill as law on Tuesday despite the Conference of Rulers expressing concern and asking that the bill be refined.
The legislation came under heavy criticism as it grants the NSC, which is to be led by the prime minister, emergency-like powers.
"Umno/BN has practically seized the rights and powers of the Yang di-Pertuan Agong to declare an emergency and is shifting the power to the prime minister," said Harapan.
The opposition coalition also asked the government to comment on whether its act of bypassing the royals is tantamount to weakening the royal institution.
Several NGOs, including a coalition dubbed #TakNakDiktator, specifically formed to oppose the NSC Bill, has warned that the country is at risk of sliding into a dictatorship with this latest development.
Sumber: https://m.malaysiakini.com/news/344945
Salam hormat,
NURUL IZZAH ANWAR
AHLI PARLIMEN, LEMBAH PANTAI
NAIB PRESIDEN & PENGARAH PILIHANRAYA, KEADILAN