DBKL's Aided Encroachment of Bukit Gasing flies in the face of PM Datuk Seri Najib Razak's Taman Tugu Project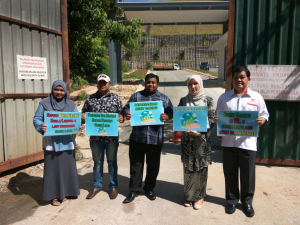 On 4 September 2016, Prime Minister Najib Razak unveiled the Taman Tugu Project, which will see RM650 million expended on the activation, conservation and maintenance of a nature park. This sudden interest by the Prime Minister stands in stark contrast to DBKL's cosiness with private developers at the expense of preserving green lung in Kuala Lumpur.
Bukit Gasing is the only remaining green lung in Lembah Pantai. Sadly, the Bukit Gasing area within the Kuala Lumpur territory remains unprotected, vulnerable to the caprices of developers and DBKL for property development. Since the 2000s, civil society group Friends of Bukit Gasing, the Joint Action Committee of Bukit Gasing, alongside the support of opposition leaders including YB Hee Loy Sian YB Rajiv, myself and many other opposition legislators have advocated the gazetting of Bukit Gasing as a green lung of Kuala Lumpur.
Previous KL mayors, including Datuk Seri Ahmad Phesal, Datuk Mohmad Shaid Taufek, Datuk Hakim Borhan and Tan Sri Ahmad Faud Ismail, had pledged to gazette 52.6 hectares of public land as preserved forest, including Bukit Gasing. Yet, promises remain unfulfilled – instead of gazetting Bukit Gasing as a green lung, DBKL has prioritised developers and profiteering over preservation of nature, and greenery in pursuit of sustainability.
Unfortunately, no gazettement of Bukit Gasing was ever made on the KL side. Worse yet, DBKL is an interested party in the privatisation project of 58 acres joint development between AMONA Development and IJM Land; and stands to pocket as much as 20 percent of excess profits in a development with a GDV worth RM2.5 billion.
Ongoing project that is Pantai Sentral Park:
The Pantai Sentral Park is a joint venture deal signed between Amona Development and IJM Land in September 2012. 58-acre in size, the Park seeks to accommodate accommodate around 15,000 residents, within 10 to 15 years. As evident in the pictures as follows, this project is conducted on the hillslopes of Bukit Gasing.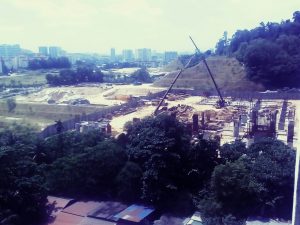 Figure 2a: Pantai Sentral Park development at the hillslope of Bukit Gasing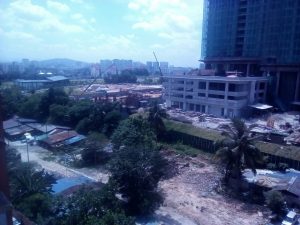 Figure 2b: Pantai Sentral Park development at the hillslope of Bukit Gasing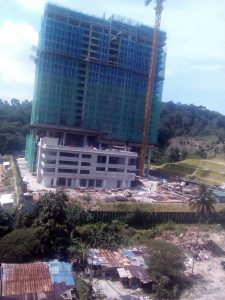 Figure 2c: Pantai Sentral Park development at the hillslope of Bukit Gasing
Under the deal, DBKL stands to receive 20% share of excess profit, when the project is slated to have a gross development value (GDV) of RM2.5 billion.
As the approving authority, DBKL faces a severe conflict of interest. As a party with a vested interest in profits, DBKL's commitment to protect Bukit Gasing becomes unreliable because it too is responsible for building control in line with environmental protection.
Now, on the very day that the PM announced the Taman Tugu Project, DBKL issued notice of a potential development project which will involve 149 residential units and a 3-storey villa at Jalan 3/132, near Taman Gasing Indah, 59200 Mukim Kuala Lumpur. The project, once completed, is expected to increase the density of residents from 9 people per acre to 19 per acre. A higher population density at double the current status quo and increases the volume of traffic on the roads leading to and from the development area.
DBKL's approval of the planned development at Bukit Gasing would erode the existing size of KL's already dwindling green lungs, double the area's population density. Staying true to the PM's sudden interest in preserving our forestry and green lungs, DBKL must halt the new development project pending review.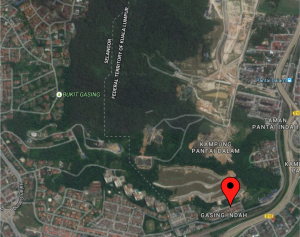 Figure 3: Proposed development area
What must the government do?
I urge the Prime Minister to apply his sudden enthusiasm in preserving nature onto Bukit Gasing. He must ensure that DBKL take the following steps:
1. Gazette Bukit Gasing as a green lung of Kuala Lumpur, alongside the three existing forest reserves in Kuala Lumpur namely the Bukit Nanas Forest Reserve (10.52 hectares), Bukit Sungai Putih Forest Reserve (7.41 hectares) and Bukit Sungai Besi Forest Reserve (42.11 hectares).
2. In light of the recently forged joint task force between MACC and DBKL to investigate for any non-compliance in the new proposal for property development. DBKL must disclose the details of their privatization agreement with AMONA; as well as the actual buffer zone surrounding Bukit Gasing's lush greenery affected by their development. Malaysians must not allow ostensibly environmental friendly 'development' to cover up the actual need to gazette an area instead of profiteering from its development.
3. PM Datuk Seri Najib must immediately ensure that geo-technical study is carried out for all hillside developments, a responsibility entrusted to the DBKL in strict accordance to the Kuala Lumpur Structure Plan 2020. In relation, the KL Draft Plan must also be gazetted following a transparent deliberation in Parliament.
Datuk Seri Najib Razak should be made aware of the shenanigans against preservation of green lung in the city – and forced to remedy such transgressions, instead of continuing with the penchant for momentary 'flash in the pan' mega projects – incurring hundreds of millions. All it takes is sincere political will. Save Bukit Gasing now.
NURUL IZZAH ANWAR
Member of Parliament Lembah Pantai
Vice President and Election Director of KEADILAN