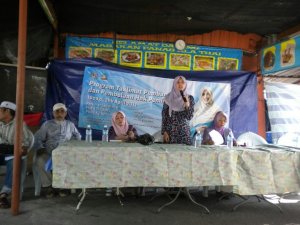 ALLEGATIONS WITHOUT BASIS
How privileged is Lembah Pantai that a man, tasked to run a nation of 30 million and who abused his powers to pocket at least RM2.6 billion of public coffers is now devoting his attention to our humble community, and moreso, addressing me directly. In fact, it is none other than Najib Razak who has exposed the country to the risk of both criminal and civil convictions in court for violating anti-money laundering regulations worldwide. However, the former Chairman of the 1MDB Advisory Board, Najib Razak, who is implicated in the financial scandal for his abuse of power has the leisure to attack me on a flawed premise — I am deeply flattered.
If respecting the rights of every citizen to choose their own homes – whether they dissent or not – means being a political instigator, Najib knows nothing about the meaning of democracy. Najib alleged that I incited the residents of Kampung Kerinchi to protest the redevelopment of their flats, when I never suggested resolving disputes about this particular development at court.
In fact, beyond listening to the concerns of my constituents, as a Member of Parliament, it is also my duty to represent their interests. For the 400 and more families of Kampung Kerinchi, I invited legal, real estate and valuation experts to share their impartial insights, arranged a dialogue session between PKNS and the residents, to assist these families in evaluating their options. Ultimately, the decision to take court action was not mine – as a Member of Parliament – to make, but one made by the residents involved.
Was it not the Umno Lembah Pantai division which first tainted the 'Residensi Kerinchi' project in 2007 to the point that residents were suspicious in its veracity? From the very beginning, the redevelopment plans of Kampung Kerinchi was marked with signs of collusion between Umno and developers.
Firstly, the 'Residensi Kerinchi' project was first put forth to the unit owners by none other than Yusri Ahmad, who was then Umno Lembah Pantai's division chief in 2007. Naturally, residents then questioned the developer's credibility.
ABUSING THE RULE OF LAW
By March 2010, former Minister of Federal Territories and current Umno Lembah Pantai division chief, Datuk Raja Nong Chik had failed to obtain the support of all the flat unit owners. Finally, the Federal Government then coerced Kampung Kerinchi's land as their own by abusing the Land Acquisition Act 1960. This particular Act was enacted for the purposes of developing public institutions such as schools, hospitals, roads and other. However, it is important to note that with regards to the redevelopment of Kampung Kerinchi, this law has been abused for commercial gain.
Let me tell the PM what politicising development actually means. It means getting Umno politicians to work hand in glove with developers, instead of following due regulations!
No matter how much Najib wants to politicize the issue of housing and community development, he should never have negated the rights of residents to seek legal recourse, and hurt them with unnecessary jeers.
As a Member of Parliament, it is my responsibility to listen to the will of the people and defend their rights — be it those who agree with redevelopment, or those who preferred their old homes. To Najib, I advise that he respect the rights, the will and the dignity of the people of Kampung Kerinchi — and beyond that, the citizens of Malaysia.
Nurul Izzah Anwar
Member of Parliament for Lembah Pantai
Vice President and Co-Election Director for KEADILAN