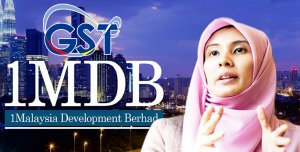 While the BN government attempts to deflect attention from their tragic mismanagement of public resources through fake news, an interesting fact about GST has been revealed. The government's revenue of RM39 billion in GST is uncannily the same amount estimated as lost in 1MDB's corruption scandal. Through the BN's 6% GST, the rakyat is victimised for the government's fraudulence. Meanwhile, Pakatan Harapan leaders remain consistent on the position that the GST burden on the rakyat must be zeroed immediately.
Earlier this month, Centre to Combat Corruption and Cronyism (C4) unveiled that state investment fund, 1MDB has lost an estimated RM39 billion through fraud and mismanagement — most of which is irrecoverable.[1] At the same time, the BN government is expected to amass RM39 billion in GST collections for the year 2016.[2]
Overtaxing the rakyat — especially the B40 group at 6% — could have been an avoidable tragedy, should we not have to recoup our losses from 1MDB.
Pakatan Harapan remains consistent on its position that the GST is an undue burden, and that its costs to the rakyat must be relieved. I reiterate Pakatan Harapan's commitment to our 2017 Alternative Budget, that is to zero-rate GST. In other words, reducing the GST rate to 0% will effectively negate the impact of GST when Pakatan Harapan is given the mandate to govern
On the other hand, the BN government will continue to tax the rakyat at a repressive 6%. The BN government forcefully imposed the GST ever since April 2015, as a non-consensual measure for the rakyat to bailout the government.
NURUL IZZAH ANWAR
MEMBER OF PARLIAMENT FOR LEMBAH PANTAI
VICE PRESIDENT AND CO-ELECTION DIRECTOR OF KEADILAN
__
[1] https://www.themalaysianinsight.com/s/1126/
[2] http://www.theedgemarkets.com/article/malaysia%E2%80%99s-gst-revenue-increase-rm39-billion-2016